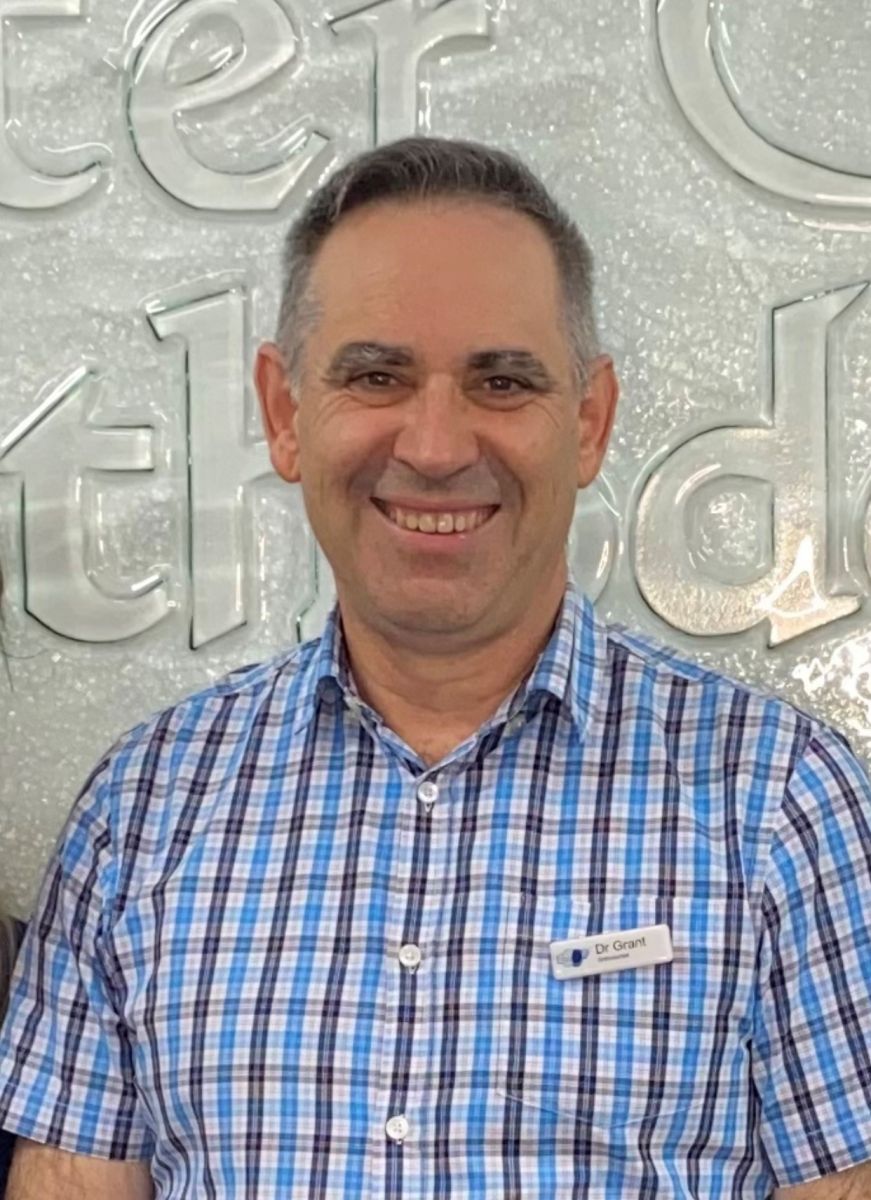 In orthodontics, creating a brilliant smile is very important, but It's the people who matter the most. Sometimes we do some pretty cool orthodontics, but it is the change in people that matters. Knowing I made orthodontics affordable for a family who otherwise couldn't afford it, is fantastic. I am thankful that I am able to bless others with a smile that can be truly life changing.
Education
I always loved science, especially biology, and I love tinkering with my hands. I also like helping people and wanted to make a meaningful contribution to my community. Dentistry and orthodontics were just perfect. I earned my dental and orthodontic degrees from the University of Queensland and became a lecturer there after graduating. It's also where I met my wife Roslyn!
Continuing Education and Technology
In the 30 years I've been practicing, a lot has changed when it comes to technology and treatment methods. I love learning and am always considering what can be applied in my practice to make things quicker, easier, and more comfortable for my patients. Some might call me a CE addict, but I think I'm just dedicated to providing the quality of care my patients deserve.
In regards to orthodontic tools and technology, we've been on the forefront. We have been putting clear braces on everyone's "social six" teeth for 27 years. I was at the first Invisalign® accreditation course in Queensland, was with ClearCorrect™ from year one in Australia, and was the first practice in Australia to use TP's Originator® aligner system. Now, we have Orchestrate 3D aligners made in house. Additionally, we use Temporary Anchorage Devices, autologous transplants, 3D scanning, Cone Beam Computerized Tomography when needed. If I think it will help my patients, we get it. Together with another orthodontist Craig Scott from Geelong we foundedan Orthodntiic supply company called Collaborative Orthodontics that sellsorthodontic materials to other orthodontists. We did this so we could aceess the best materials even when they aren't readily available in Australia. Part of my responsibilities for Collaborative are to get the TGA approvals for our products and go to Australian and New Zealnd Orthodontic meetings to answer questions other Orthodontists have about them. I can tell you nothing makes you understand the products you use as the grilling you get from the TGA and your colleagues, and I deeply appreciate both of them.
Professional Memberships
Australian Dental Association
Australian Society of Orthodontists
American Association of Orthodontists
European Orthodontic Society
World Federation of Orthodontists
Australasian Orthodontic Board [current State Convenor)
Royal Australian College of Dental Surgeons
I have served in all executive roles including president of the
South Coast ADA [ Past President]
Queensland Society of Orthodontists [Past President]
Australasian Orthodontic Board Assessor of Post-Graduate Orthodontists
Outside the Office
Roslyn and I have lived at Alberton, a Sugar Cane growing area east of Beenleigh, for more than 26 years. We love it so much here, we wouldn't think of moving.
Roslyn is the founding partner of the neighboring dental practice, which she has co-owned for 31 years. She loves aesthetic dentistry; in particular, her composite resin work is absolutely exceptional. At home, she is the expert cook and loves cake decorating with sugar flowers. She is very healthy, into exercise and drama, and obviously very patient. I am sure her teenage dream husband looked a little bit more like a movie star, and her adult dream husband would get round to his chore list a bit faster.
We have two sons. Daniel has graduated and works in a politician's office part time and the rest of the time for me in our business and farm. He dresses conservatively, loves election campaigns, votes conservatively, drinks tea, and behaves well. Our younger son Andrew is a computer coder who specialises in multi-level access, dresses like a hipster, is effortlessly very funny, hates politics, is into good espresso, hates sheep, and knows how to get the best results from minimal exertion. There are always dogs, fish, and sheep around the farm, and some of them are real characters.
In the Community
I love my community—it's great. When you are active in your community, you meet all sorts of wonderful people who are always willing to lend a helping hand. I am on the school council at a church school I helped found and am head of its finance committee, and on the construction committee. I am on my church board and run financial literacy courses for the church. I help raising funds for school chaplaincy, a family advice organization, and community radio. I am an active member of Christian Medical & Dental Fellowship by mentoring and educating third-world healthcare providers. Last but not least, we are part of the Australian Society of Orthodontists Give a Smile charity program.
Why choose our office?
Once you come into our office, it won't take you too long to notice that we don't take ourselves too seriously. We try to do sensible orthodontics that suit the individual even if that means thinking outside the box. We have done our best to figure out what the barriers to treatment are, and reduced them as much as possible. In the end, experience counts and we have treated more than 15,000 smiles at our practice, and we follow them for years. The jokes are terrible but at least we try! The footy tips and investment advice is even worse, but that doesn't stop us either. Just as well that we improve smiles!